Enjoy these LIVE Camera Demo Samples from all around the world.
One of the best ski cams in the industry – see what sets Snowbasin resort apart from the rest.
Did you know you can have your visitors buy tickets without leaving your LIVE camera player?
Showcasing the best features from the "All Inclusive" Services Package
Show off your resort with a Ultra HD live pano and HD live video.
That's Dual live cameras in one player!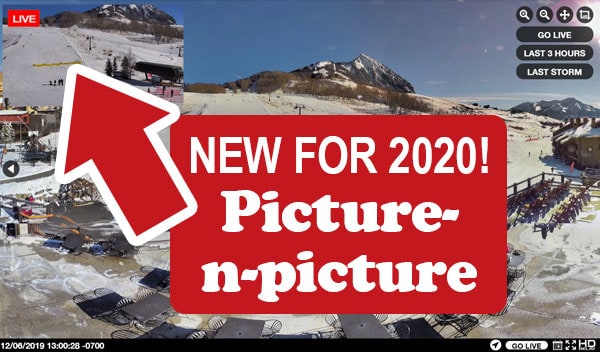 Supercharge your Live Camera marketing and public outreach metrics with Advanced Event Recall (AER)
With AER your business leverages what your viewers may have missed and keeps them interested days and weeks later. Events can be instantly called out onscreen with a custom text button that takes only seconds to create inside the HD Relay manage portal. AER let's your live viewers go directly back in time to the most recent: powder day, race day, golf course pin change, rainfall event, flash flood, big swell, animal feeding, cruise ship arrival, concert replay, and more.
Construction Cameras
Hotel and Resort Marketing
Snow Reporting
Water Management & Safety
More options and more customization for your live camera
Legend for HD Relay LIVE Camera Player Features
1) HD Panoramic Time-lapse: Click anywhere on the image to play the time-lapse.
2)

Image Interactive Features: Zoom In, Zoom Out, Move Image Around, Crop Zoom In
3) Interactive Intro Buttons: Give your customers an informative and unique experience.
Go directly to LIVE stream
Fast Forward Playback of last 24 hours
Shows a preset date, time, and playback speed of a custom event

More buttons on command: We can customize this button with corresponding text and function to meet your needs.
4) Time-lapse Navigation: Go to previous or next ultra high resolution image.
5) Popup Overlay: Viewing Recorded Video or Images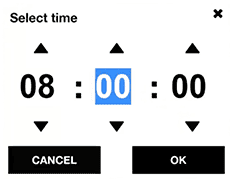 6) Live or Timestamped Date and Time

7)

PTZ Controllable Cameras option: Presets, social voting, admin only, and open users control settings.
8)

When watching recorded video/timelapse playback – jump to LIVE feed.
9) Full Custom Interactive Player Buttons:
Display the tickets webpage from your current site so users never have to leave your live webcam page
Display a custom LIVE temperature webpage
Display an information webpage
Display a custom map of your cameras position from Google Maps
More buttons on command: We can design and add any kind of button, text, color, icon, and corresponding function to meet your needs.
10)

Play and Pause Functions

11)

Never miss a Sunrise and Sunset – Preset Auto Playback
12)

Fast Forward Playback: Speeds up 1,000 x's
13)

Instant Rewind of last few hours at Fast Playback
14)

Date Picker for Instant Rewind Playback of Recorded Video or Ultra HD Images
15)

Downloading Ultra HD Image(s), Video, and Time-lapse
16)

Full Screen Mode
17)

HD Relay Website tech help Link
18) Mobile Devices in both Portrait and Landscape Modes:
19) Current Location: PTZ Controllable Cameras –
20) Presets: Predefined camera locations to allows jumping from one position to the next.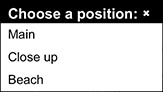 21) Social Voting: Give your viewers a voting chance to see the preset position they want.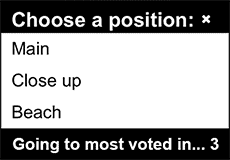 22) Admin: Give total control over your live camera to a select few of privileged team members. Use the Pan, Tilt, and Zoom slide controls for precision camera control.
23) Users: Give limited control of what viewers can control and see.
24) HTML5 for Multi-Device Usability
25) LIVE Temperature Widget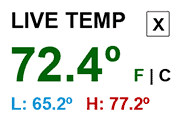 Additional Options:
Customizable User Experience
Enhanced LIVE Steam Video Hosting
Optional Dual Sim Remote Cellular Kits
Cameras for Every Location: PTZ, Long Range, Wide Angle, and Multi-Camera Installations.
Sea Lion Demo Webcam from Pier 39 in Northern California
To view the Sea Lion LIVE webcam, press the "GO LIVE" button. From there, you can press "Control" to choose a position, snap a screenshot, pause it or enter a full-screen mode. For more information please visit pier39.com/sea-lion-webcam
Showing features from the "All Inclusive" Services Package
Construction Site Demo Camera: Holderness School of the Math & Science Building
LIVE Streaming Video using HD Relay's Just Streaming Service to show LIVE, Rewind, and Fast Forward Playback features. For reference, Fast Forward Playback creates a "time lapse" like video playback experience.
Featuring the Security Package from the "Just Streaming" Services
World class golf resort ups their game
with new HD Relay marketing features

Featuring the "All Inclusive" Services
The Ko Olina Golf Resort that's utilizing advanced streaming features from HD Relay

Featuring the "Just Streaming" Services
The best views in South Lake Tahoe. Diamond Peak resort lookout with the best time-lapse sunset in California.
Demo Showcasing a ton of features from the "All Inclusive" Services Package
LIVE Demo from Santos Brazil – The most popular
tourism cameras on the east coast.

Featuring the "Just Streaming" Services
LIVE Ocean Beach San Diego – The last
small town in California broadcasts LIVE with
a controllable PTZ tourism beach cam.

Featuring the "Just Streaming" Services
Jobsite Demo Camera at Mt. Hood Meadows – Sahale Building Construction
Demo Showcasing a few features from the "Just Timelapse" Services Package
Call us to get started or Shop our catalog!
US & Canada
+1 (866) 883-8717
Toll Free & International
00 1 (866) 883-8717