HD Relay camera services exist for a simple reason – Live HD cameras are a profoundly effective marketing tool.
HD Relay's professional camera hosting services empower your marketing, IT, and Web team with live streaming content. Our team is located in San Diego, Ca. As an on demand workforce, we are ready to help 24/7 for managing and assisting with all aspects of live camera operations which means we work for you when you need us. We provide services for our clients cameras all over the world. Our objective is to keep our service relationship simple – our services are already included in your low monthly hosting fees so there are no extra fees when your team needs us.
Our services allow you to reduce or omit additional employee overhead associated with a DIY camera server or other headaches that often present themselves in professional marketing and live camera operations. In fact if you need any assistance with camera changes, updates, advanced hardware replacement, logos added, or even a Facebook or You tube Live event pushed to your team, simply call or email us and we are ready to help.
The HD Relay Service suite gives your marketing team access to a state of art professional support group plus online access to Manage HD Relay which is our automated backend camera control system.
Included in our HD Relay Client Advanced Portal (client.hdrelay.com):
HTML5 video controls
Direct pan-tilt-zoom camera controls with override
Camera health testing, connection testing
Troubleshooting tools
Live stats
Stat history
Geo positioning
Audio levels
Adserver controls
Billing review features
Third party CDN push tools
Marketing access tools
High resolution recording access and download
Privacy tools
Director controls
User experience tools and controls
– Plus many other features.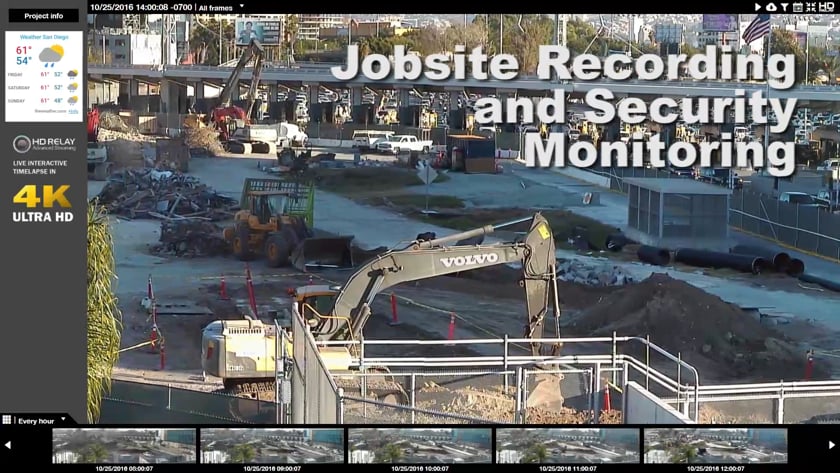 Live streaming cameras tells a unique story.
Our business of provisioning live video systems for online viewing, recording, and marketing was created out of a brief meeting in 1995 on a remote beach in southern Costa Rica. The meeting between our CEO and a Yahoo contractor lasted only about 10 minutes, however what was discussed remained as the basis of what HD Relay is today. During that meeting the concept of using networked web based cameras and computers to view and interact online with remote beaches, travel destinations, action sports resorts, and wildlife was discussed in only general details. By 1995 we were missing a few key technology pieces — A reliable video compression standard and an affordable yet fast network uplink needed to deliver the video streams back into our remote servers. It wasn't until 1998 that we were able to launch what was likely to be the first live 320×280 user controllable 10 fps plus pan tilt zoom live camera in the western United States. This pioneering controllable camera system was named after the Hamel's brothers in San Diego, CA (a landmark business who commissioned the camera) that quickly become known as the iconic Hamelcam of the late 1990's. After more than 25 years HD Relay has become much more than a live camera host. We have grown to include worldwide relay server footprint, patents, specialty camera hardware, and our brand new IC|HD™ platform. Our live systems are used worldwide for streaming, time-lapse, recording, live audio, ultra high resolution panoramic, and even mobile video solutions for vehicles.
Now more than 25 years later and with 5,000+ camera systems deployed around the world and 2,000 hours of Research and Development we are proud to offer the exact vision of how we imagined, expected and pioneered live video to be. Today high definition (HD) large audience video services over Internet connections is now our standard. Our company is dedicated to bringing this vision and our experience to your live camera system project. You will find only friendly and knowledgeable engineers, technical sales, customer service and project managers to assist your team. HD Relay is the pioneer in live IP video solutions for managing, hosting and maintaining reliable unrivaled live HD web camera experiences. With our extensive customer base consisting of broadcasters, construction firms, retail stores, ski resorts, amusement parks, local and federal government, and web attraction locations worldwide, we have developed a state of the art video relay system your project and viewers require.
We maintain friendly and knowledgeable project managers, engineers and technical sales personnel to provide a total customer service experience for your organization.