There's another Las Vegas Strip, where skiers can get away from the glitz
Tings can go downhill fast on the Strip.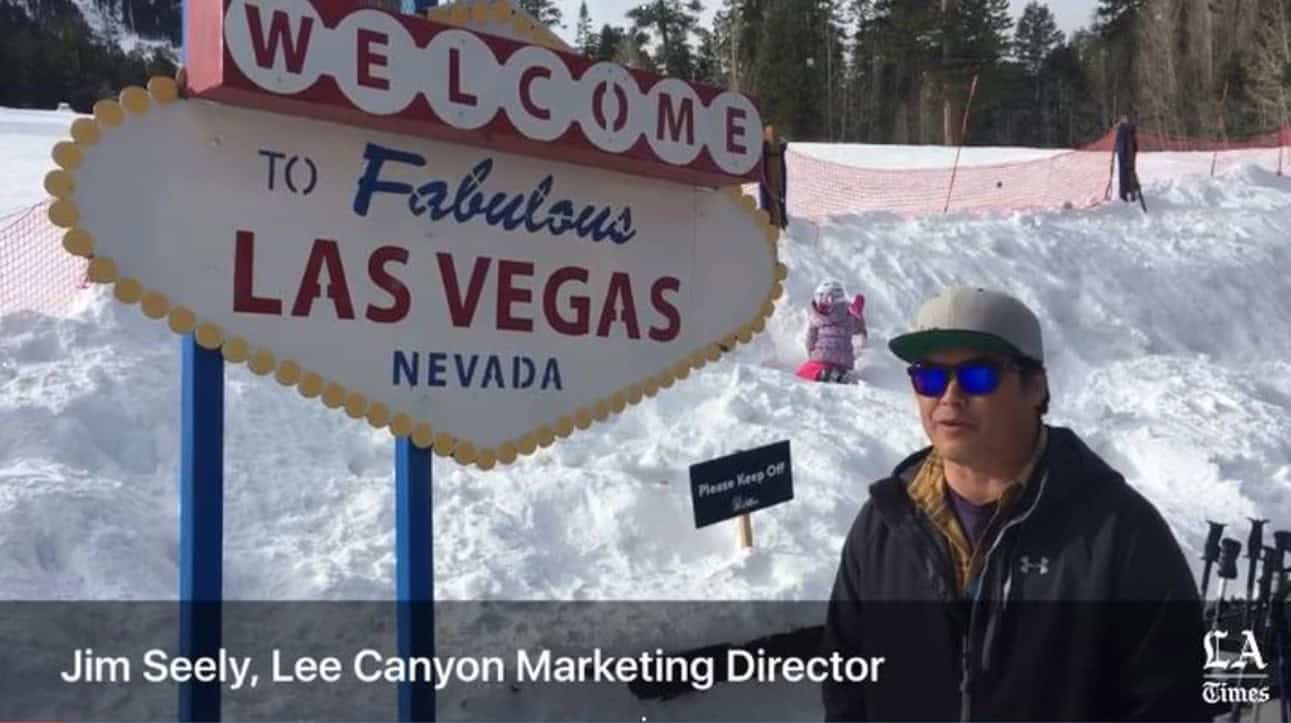 No, not that horrible roll that elicited icy stares and mournful groans from the craps table.
Real downhill speed on a real snowy slope in Las Vegas.
Vinny Coccia had heard rumors of such a place — mostly whispers and loose talk among colleagues in the land of excess and exaggeration. He had just moved a few months ago from the East Coast and got sucked in by the promise of a powdery paradise away from the shimmery glitz.
"I really had no idea if it really existed," Coccia said. "I decided to come up and see what it was all about."
Lee Canyon has 30 trails and four lifts — including a handle tow in a tubing area — and the base sits at 8,510 feet, on the flank of 11,289-foot Lee Peak near Mt. Charleston. It's about 50 minutes from the Strip, but the resort, which operates on U.S. Forest Service land with a permit, has its mailing address as Las Vegas.
Jim Seely, marketing director for Lee Canyon, admitted it's not the first, second or even third thing people connect with Las Vegas.
"It's an unusual place to have a snow resort an hour from Vegas," Seely said. "It does have its quirks. Our apres-ski — out on the Strip — is the best in the world."
The ski area isn't new. It's been around since the 1960s, when it had a single lift and just a few runs. It's expanded slowly over the years, and was renamed Lee Canyon last year after formally being known as the Las Vegas Ski and Snowboard Resort. It was bought by Utah-based Powdr Corp. more than a decade ago. That company has more than a dozen ski areas in its portfolio, including Copper Mountain in Colorado and Mt. Bachelor in Oregon.
But Lee Canyon hangs on to a lot of its Las Vegas identity — even if it feels about as far removed from the Strip as one could imagine.
The run names include Keno, Blackjack, Slot Alley, Jacks, Kings, Queens and, yes, the Strip. It held an Elvis costume contest a couple of years ago to celebrate the King's birthday in January. Prizes included a $100 voucher to use at the resort. It has, at the base of the Strip, a replica of the "Welcome to Fabulous Las Vegas" sign that is seen on the south end of the real Strip.
It also looks and feels like a regular mountain resort. Tall pine trees mark the edges of the runs and temperatures can plummet with the wind. There's the crunching sound of snowboard edges carving turns in the groomed, packed trails. Some snowboarders make high-flying jumps off ramps set up on the Strip.
The resort gets about 100,000 visitors a year and about 40% are local, Seely said. He said Lee Canyon is carving out its niche by being more "experiential" — a place where some visitors can see snow for the first time.
"We have tourists from Brazil come up here and many of them have never been on snow," Seely said. "We offer complimentary coaching to enhance the experience. It's not a lesson, but it helps them out."
The resort is also offering, for the first time in January, a chance for people to snowshoe on a 3-mile circuit. This is part of the resort's other expansions that have included the tubing area and summer activities — including hiking, Frisbee golf and mountain biking.
Lee Canyon also offers a grill and bar. Bartender Ernie Lucero has been there for about a decade and delivers wry one-liners often dripping with sarcasm. He said he'd never been told it before, but smiled when he was told he sounded like actor Kevin Spacey.
"That'll be $27.50," he said, deadpan, to a startled skier who ordered a Blue Moon beer.
"$27.50?" the man asked, making sure he heard correctly.
"It's a really good beer," Lucero said.
He paused for a moment before telling him it was, in fact, $6. The man laughed and later came back to order "a $20 coffee." Lucero laughed and said he could probably make a $20 coffee.
Lucero's easy rapport with the first-timers and regulars gives the bar a casual vibe. It is casual enough that sometimes he said he's kept the bar open hours after the runs close at 4 p.m.
"Or I just close it when I get tired of people," he said.
Sarah Wooten, 24, was making her first visit to ski at Lee Canyon on a Friday when the clouds were starting to spit out light flakes of snow and adding to the 41-inch base. Lee Canyon averages 161 inches of snowfall a year and also makes snow to cover 35% of its terrain.
Wooten said she's lived in Las Vegas since 2008 without ever making it up to Lee Canyon or Mt. Charleston. Like many, she'd heard it existed but didn't know what it was like. She sat drinking beer with her boyfriend, Kirk Stein, and Stein's mother, Anna.
His mother had lived in Vegas for about a decade and didn't know about Lee Canyon either. Anna Stein looked out the window at the mountain, with gray clouds clinging to the peak, and laughed.
"I was like … this is here?" she said.
Seely smiles when he hears how surprised people are about a ski resort in Las Vegas. He said as marketing director, "it's not what you really want to hear," but said Lee Canyon is looking into working with Strip-based casinos or travel groups to ferry tourists up for a day, as they do for Grand Canyon or Hoover Dam tours.
But as T.J. Ropelato, a spokesman for Lee Canyon, noted, "The casinos do like to keep people in the casinos."
That could make it a slow, uphill climb.
Read more at: www.latimes.com/nation/la-na-vegas-ski-2016-story.html